Free Online Vocal Remover
Free Online Vocal Remover
Create karaoke tracks online from your browser for free
Online Vocal Remover is suitable for users who cannot download Vocal Remover Pro software (Mac & Mobile users) or for people looking for instant hassel-free karaoke track. Note that Vocal Remover Pro has superior sound quality than the online vocal remover, we recommend all users to download Vocal Remover Pro where possible.
Create karaoke tracks from YouTube
YouTube to karaoke converter can convert any music video on YouTube into MP3 Karaoke tracks without the singing. Vocal will be removed from the YouTube video. Now you can make karaoke tracks online without your own music file!
Upload any mp3, m4a, ogg, aac, ac3 music track from your computer or paste a YouTube video link, Online Vocal Remover will remove the singings from your music or YouTube video and generate a karaoke track for you to download.
Try Vocal Remover Pro
Looking for better vocal removal quality? Try our professional vocal removal software for your Desktop PC.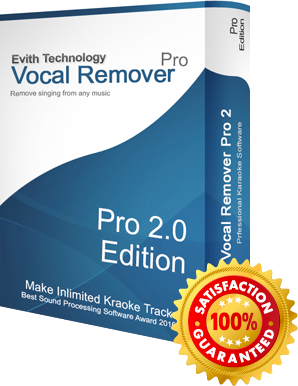 ---
Latest Karaoke Tracks Created

Onur Bayraktar, Zehra Gülüç – Kopardılar Sen
Created 17s ago

Jennifer Lopez ft. Pitbull- On The Floor (DNA Boo
Created 1min ago

Hasan Shamaei Zade ~ MusicDam. - Damad ~ MusicDam.
Created 2min ago

Untitled.mp3
Created 2min ago

y2mate.com - Jab Koi Baat - DJ Chetas _ Full Video
Created 3min ago

y2mate.com - Evariki Evarayya Eeshwara __ Best Eve
Created 4min ago

Nilakshi Neog Live Perform ||Laxminarayan Puja 202
Created 5min ago

CREED 2 Trailer Music Version _ Proper Movie Trail
Created 5min ago

?ng Tr廙? L?m T廙? Anh Ch? - MHang, QNT, Rast
Created 5min ago

Countless (Official Video) | Pukhraj Bhalla | JT B
Created 6min ago

M.Onur Bayraktar - Senden Sonra İnan #Bekleyeceğ
Created 7min ago

Mava Tari Murti Ma Mohi Mohi Re Swaminarayan Bhagw
Created 7min ago

Çağatay Akman - Kız İsteme Bestesi(Bir Kızı
Created 8min ago

Phố Vắng Em Rồi Karaoke 123 HD (Tone Nam) -
Created 9min ago

Thành phố đơn phương
Created 9min ago
The Juans - Manalangin (Official Lyric Video)
Created 9min ago

Zynakal - Terbang (LIRIK)
Created 10min ago
Krewella - Lights & Thunder (feat. Gareth Emery)
Created 12min ago

Aint no sunshine - Александр Кудино
Created 12min ago
BINALEWALA MASHUP | Cover by Neil, Shannen, Donell
Created 14min ago
---